My Blog
Posts for: September, 2021
By SouthPark Dentistry
September 20, 2021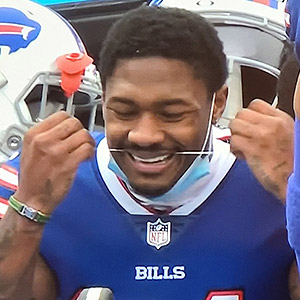 Buffalo Bills wide receiver Stefon Diggs wrapped up the NFL regular season in January, setting single-season records in both catches and receiving yards. The Bills handily beat the Miami Dolphins, earning themselves the second seed in the AFC playoffs, and Diggs certainly did his part, making 7 catches for 76 yards. But what set the internet ablaze was not Diggs' accomplishments on the field but rather what the camera caught him doing on the sidelines—flossing his teeth!
The Twitterverse erupted with Bills fans poking fun at Diggs. But Diggs is not ashamed of his good oral hygiene habits, and CBS play-by-play announcer Kevin Harlan expressed his support with "Dental hygiene is something to take note of, kids! There's never a bad place to floss" and "When you lead the NFL in catches and yards, you can floss anytime you want."
We like to think so. There's an old joke among dentists:
Q. Which teeth do you need to floss?
A. Only the ones you want to keep.
Although this sounds humorous, it is borne out in research. Of note, a 2017 study showed that people who floss have a lower risk of tooth loss over periods of 5 years and 10 years, and a 2020 study found that older adults who flossed lost an average of 1 tooth in 5 years, while those who don't lost around 4 teeth in the same time period.
We in the dental profession stress the importance of flossing as a daily habit—and Stefon Diggs would likely agree—yet fewer than 1 in 3 Americans floss every day. The 2016 National Health and Nutrition Examination Survey (NHANES), conducted by the CDC's National Center for Health Statistics, revealed that only 30% of Americans floss every day, while 37% floss less than every day and 32% never floss.
The biggest enemy on the football field may be the opposing team, but the biggest enemy to your oral health is plaque, a sticky film of bacteria and food debris that builds up on tooth surfaces. Plaque can cause tooth decay and gum disease, the number one cause of tooth loss among adults. Flossing is necessary to remove plaque from between teeth and around the gums where a toothbrush can't reach. If not removed, plaque hardens into tartar, which can only be removed by the specialized tools used in the dental office. Regular professional dental cleanings are also needed to get at those hard-to-reach spots you may have missed.
If Diggs can find time to floss during a major NFL game, the rest of us can certainly find a couple minutes a day to do it. While we might not recommend Diggs' technique of flossing from one side of the mouth to the other, we commend his enthusiasm and commitment to keeping his teeth and gums healthy. Along with good dental hygiene at home—or on the sidelines if you are Stefon Diggs—regular professional dental cleanings and checkups play a key role in maintaining a healthy smile for life.
If you would like more information about keeping in the best dental health, please contact us or schedule a consultation. To learn more, read the Dear Doctor magazine article "Daily Oral Hygiene."
By SouthPark Dentistry
September 10, 2021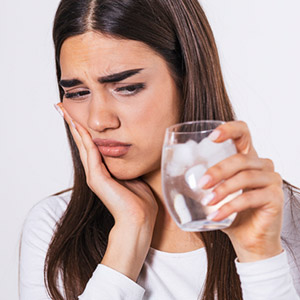 Not all toothaches are alike: Some are sharp and last only a second or two; others throb continuously. You might feel the pain in one tooth, or it could be more generalized.
Because there are as many causes as there are kinds of dental pain, you can expect a few questions on specifics when you come to us with a toothache. Understanding first what kind of pain you have will help us more accurately diagnose the cause and determine the type of treatment you need.
Here are a few examples of dental pain and what could be causing it.
Temperature sensitivity. People sometimes experience a sudden jolt of pain when they eat or drink something cold or hot. If it only lasts for a moment or two, this could mean you have a small area of tooth decay, a loose filling, or an exposed root surface due to gum recession. If the pain lingers, though, you may have internal decay or the nerve tissue within the tooth has died. If so, you may require a root canal treatment.
Sharp pain when chewing. Problems like decay, a loose filling or a cracked tooth could cause pain when you bite down. We may be able to solve the problem with a filling (or repair an older one), or you may need more extensive treatment like a root canal. In any event, if you notice this as a recurring problem, don't wait on seeing us—the condition could worsen.
Dull pain near the jaw and sinuses. Because both the jaws and sinuses share the same nerve network, it's often hard to tell where the pain or pressure originates—it could be either. You may first want to see us or an endodontist to rule out tooth decay or another dental problem. If your teeth are healthy, your next step may be a visit with a physician to examine your sinuses.
As you can see, tooth pain can be a sign of a number of problems, both big and small. That's why it's important to see us as soon as possible for an examination and diagnosis. The sooner we can treat whatever is causing the pain, the sooner your discomfort will end.
If you would like more information on treating dental pain, please contact us or schedule an appointment for a consultation. You can also learn more about this topic by reading the Dear Doctor magazine article "Tooth Pain? Don't Wait!"